The effective management of information is, undoubtedly, set to play an increasingly dominant role in determining how successfully schools and colleges are being managed.
ScadCo is the owner of a suite of integrated software applications that empower educators and lecturers to more effectively and efficiently meet the individual needs of students, every day.
Capabilities enabled by Scadsys are:
School and college resource management and control
Management of knowledge
Effective collaboration with all stake holders
Cashless and paperless school and college environments
Learning management
Management of digital and media content
Data analytics for decision support
Social business presence and management
Higher efficiencies and effectiveness
Agility with Software-as-a-Service in the Cloud
ScadCo as a partner in education and innovation
Data migration from SASAMS, Edupac, PencilBox, Ed-admin, Libwin, ICAS and many more
Data synchronisation to SASAMS for new government requirements in 2017 (ie. SNAP statistics and schedules only accepted from SASAMS)
The Scadsys product line is dramatically different from other education-oriented products as it has a holistic approach to effective management of information, educator and student empowerment and the ability to process massive amounts of information. The system incorporates standard and custom based curriculum assessment and is the primary workspace for educators, students and administrators. The parent self-service gives access to student assignments, assessments, discipline, attendance, statement which increases visibility of performance measures and indicators.
The Scadsys product is a comprehensive, fully integrated solution designed to address all aspects of instructional management, decision-making, delivery, follow-up, time management, as well as assessment. Via the Internet, the applications provide parents with the ability to view their children's educational progress, educational objectives, outstanding assignments, school's calendar and educator communication on a daily basis.
Scadsys provide education with the ability to leverage technology in the much same way that the business has successfully utilized technology, to facilitate better visibility of performance measures and indicators; facilitate better management; facilitate improved efficiency of operations; and improved return on expenditures.
Scadsys also enables a partnership between educators, students, parents, suppliers and the controlling government, providing new means of interacting and working together to meet the needs of each and every student, every day. Scadsys is designed to keep track of all relevant information from Grade 000 to Grade 12 and colleges, to help perform most of the day to day activities. Since Scadsys is an interactive software tool, it can be used in a variety of ways to assist educators and principals.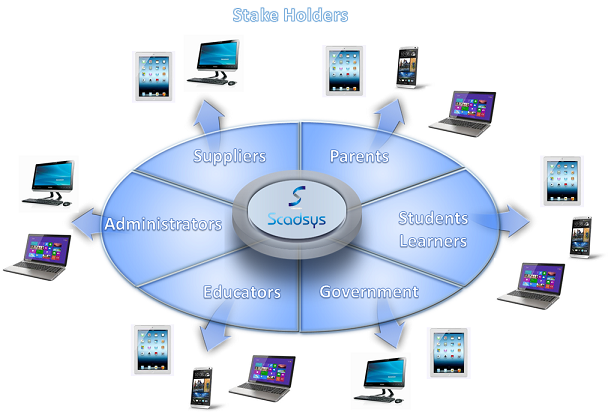 Executive Summary
Many schools and colleges are faced with the dilemma of coping with increased responsibilities and the rapidly changing and often massive flow of information involved in managing institutions. Given the limited human resources at their disposal, management will need tools that can help to enhance the administration of their institutions, while providing the greatest transparency and accountability.
School and College management is therefore among those who will have to adapt to the new paradigm by linking on new strategies and embracing new technologies. Most certainly, the enlightened and creative use and deployment of Scadsys will result in raising levels of efficiency and effectiveness of their management capabilities. Today's school management can benefit from having at their disposal, an application system like Scadsys, which assist in collating, coordinating, processing and managing the flow of information in the administrative activities of their institutions. By facilitating real-time access to important administrative and management information, Scadsys can contribute significantly to school/college administration.
Administration and Management in Perspective
Administration and management incorporates a wide range of tasks. It is therefore necessary at the outset to note the broad areas that affect the management of schools. Among these are decision-making, follow-up, staff development, time management, evaluation and reporting. More specifically, however are the management and administrative tasks within the environment. These include administrative planning, budgeting, financial control, bookkeeping, staff records, student records, timetabling, circulars/regulations and reporting.
Benefits of using Scadsys
The main advantage for using Scadsys is the ability to eliminate duplication of effort. Once data is stored in the system, all authorized users across the various departments and different physical locations may access it. And this, they may even do concurrently. This eliminates the need to replicate documents all the time to send to different departments or personnel. The integrated approach also reduces the manual effort involved in inputting and storing data. Of course, there is also the real opportunity of reducing errors and eliminating the tediousness of long and repetitive manual processing. Other advantages to be gained by institutions include the following:
ScadCo as a partner in education and innovation
Improved customer service through greater access to accurate information
Increased productivity and job satisfaction among staff members
More economical and safer means of storing and keeping track of information
Enhanced flexibility through integration with other features and applications
Easier access to management reports and reminder letters, as well as more accurate and faster results from statistical analyses
Greater accountability and transparency in operations
Improved efficiency and effectiveness in administration and management
More reliable security for sensitive and confidential information
Scadsys Modules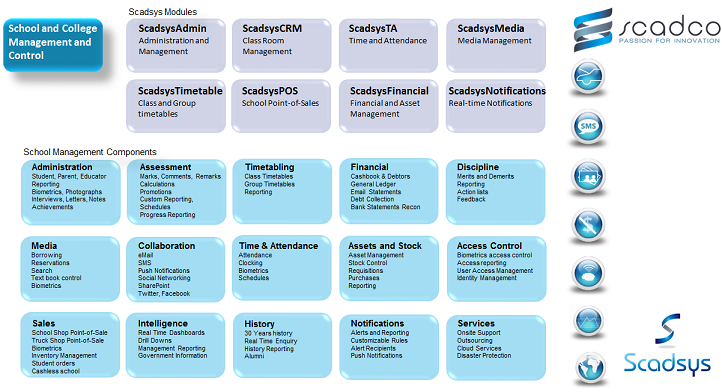 Student Information Management
The first requirement of Scadsys is to capture student information. From the moment there is contact with the parents or when the student is admitted, proper records are kept and maintained over the period of that student's lifetime at the school or college. Scadsys has the capability to manage the entire student's lifecycle and key activities and tasks in this regard.
Among these are:
Student admissions and registration
Assigning students to classes/grades/teachers
Tracking the student through the various grades
Registrations and Certificate registrations
Transfers
Keeping and managing codes of conduct records (discipline)
Student medical health and welfare records
Generating transcripts
Generating reports (report writer is available to generate own reports)
Attendance records
Digital photographs
Digital Records (birth certificate, ID, etc)
Student interviews
Parent letters
Personality traits
Achievements
Certificates
Labels printing and many more
Scadsys will provide management with statistical and analytical data by the click of a button, efficiently and accurately yet at the same time maintaining the element of confidentiality. The Scadsys Enquiry module enables a user to enquire all information held in the system, for up to 30 years or more. This module only displays archived information and does not allow any changes to the history.
Staff Information Management
This module is capable of handling staff recruitment, monitoring qualification and skills, and tracking performance, attendance and promotions. Scadsys will of course take into consideration all categories of staff, e.g. teaching, administrative, non-teaching, fulltime, contract and part-time, both state and governing body appointments.
Financial Management
Schools are responsible for the purchasing and procurement of almost all goods, services and student support material, with capital from state transfer payments, monies from school fees, fundraising efforts and donations. With this responsibility, an emphasis has been placed on accountability and transparency. Hence, a financial management module, capable of handling accounts receivable and accounts payable and incorporating a general ledger, in the least, becomes an indispensable function of Scadsys.
Financial year-end statements, Income and Expenditure statements and Budget generation for presentations to School Governing Bodies and submissions to Head Office, is made easier with Scadsys and its interface to Pastel/SageOne. Reports and records of all accounting transactions for the fiscal year, payments made from the school's account, school/tuition fees, donations, proceeds from fund-raising activities, transfer payments received and activities of secondary accounts, are all areas which the financial module must be able to facilitate. Whatever the activity, the financial transactions will have to be recorded, assessed, and reports produced.
All financial statements are in accordance with GAAP and are able to generate custom monthly, quarterly and yearly reports, as required by the Education Department and Governing Body. Given that many schools are located in residential areas, away from any central business districts, an electronic banking facility is essential. Hence, our financial management module facilitates electronic banking.
The Scadsys financial module is fully integrated into the Scadsys Administration and Marks/Assessment modules, with financial capability tailored to schools and educational institution's needs. The financial module can be fully integrated into Pastel/SageOne.
Unique features of the system are:
Integrated software which provide functionality tailored to educational institutions
Specific debtor ageing requirements (invoice one and allow payments over 10 months)
Fully fledged accounting capability
Specialized invoicing module for automatic invoicing
Electronic funds transfer (EFT) for debit orders to all banks in South Africa
eMail of statements
Automatic debtors letter generation for outstanding accounts
SMS and eMail messaging for outstanding and paid-up accounts
Report Builder for custom report and statement development
Export and Import capability to/from Excel spreadsheets
The invoicing module, which benefit the most from the integration capability, use information in the administration and marks systems to ease or automate debit and credit invoicing. Debit orders to bank accounts ease the debtor collection process.
Resources & Physical Infrastructure Management
Although these two are grouped together here, Resources Management and Physical Infrastructure Management may be implemented as separate modules, with the one concentrating on the distribution of resources across the institution, while the other handles management of the physical plant.
The Resources Management component facilitates the tracking of items, enforcing inventory control features such as reorder level monitoring, and enhances accountability for material usage in general. The availability of resources for instructional delivery is a critical feature in any school and college environment. The ability to track the usage of resources per department, per classroom or per educator basis, is useful in inventory control. This allows for the proper monitoring and re-ordering of supplies, with implications for ensuring a steady and on-time supply of resources in the classroom, which, in turn, encourages the efficient pedagogical supervision in the classroom.
Similarly, facilities to manage the institution more efficiently and more effectively are accommodated in Scadsys. It is important not only to build, but also to maintain the capacity of the institution. The ability to interface with other departments in the environment through a computerised system will allow for a more efficient management. The ability, for example, for management and other administrative staff to quickly obtain information and to obtain authorization for maintenance projects is efficiently expedited through the integration with other features and applications of the program.
The main goal of implementing modules for Resources and Physical Infrastructure Management is to enhance the overall management function. They will facilitate greater accountability through access to real-time and accurate information, while reducing and even preventing wastage. This requires equipping the modules with the facilities to generate the appropriate reports to provide relevant and concise management information on inventory, receivables and distributions, thereby encouraging the efficient management of supplies and fixed assets.
Timetable Management
Timetabling, undoubtedly, is one of the most tedious and challenging tasks of school administration. Proper management techniques dictate that the school's management must be able to provide a proactive approach to getting the business of education done in an as efficient and cost-effective a manner as possible. The timetabling software must allow for the speedy creation and development of flexible timetables, which reflect the special requirements and peculiarities of the institution.
Timetabling allows school management to plan activities and events over periods ranging from one day to one academic year. The Timetable Management module therefore takes into account the:
Variety of study programmes: subject/class groupings
Availability of classrooms and specialist rooms/li>
Number of teachers and their availability at specific time periods
Number of students
Capacity of the institution
Duration of each class period
Duration or cycle of a school week.
In addition, the module interfaces with other modules and have the built-in capacity to be flexible enough to allow for sudden changes or events. If all the above is accommodated in a program, it would no doubt reduce the many hours spent by management in designing timetables, relieving them for other tasks in management or instructional delivery.
The completed timetable may well rule the lives of hundreds of students and staff members for the 200 days in the school year, period-by-period, bell-by-bell. Such a powerful tool may easily make or break educators and teaching situations or may easily distort the curriculum philosophy of the school.
Timetabling has been called the art of comprise. From a given set of data there are likely to be many possible solutions, each involving compromises, which detract from the ideal. Clearly we wish to obtain the solution with the fewest, least important compromises. This solution will give a timetable with the best quality – a timetable that is enabling, not restrictive, so that the teaching staff may develop to the full the curricular aims of the school. The activity that is usually called timetabling (the fitting of classes/groups, educators, rooms, subjects into particular times of the week) should more properly be called scheduling.
It is however only part of the overall process.
Curriculum planning: The curriculum plan consists of number of periods, subjects and teaching resources derived from the aims and resources of the school.
Choices analysis: The feasibly testing of the subject choices against the limitations of the school, i.e. classroom sizes, number of teachers, student subject choices, etc.
Staff analysis: The feasibly testing of the teaching resources against the subject choices offered/allowed at the school.
Scheduling: The integration of the 5 variables: teachers, subjects, classes/groups, rooms and time into a viable pattern.
The Scadsys timetabling module promises to reduce the timetabling process by 70% and to optimise staff resources.
Educational Management and Information System
On a regular basis, Governments requires crucial census information from schools, such as the SNAP and LURITS Surveys. The accuracy of this information is fundamental to the Provincial Education Department's, Provincial Government's, National Education Department's and National Government's Macro Planning. Scadsys captures or synthesize information as required by these surveys and have the capacity to populate such surveys with the accurate information.
Data collection by the Educational Management and Information System must be compatible with the Government's data dictionary. The information it compiles must be produced in electronic format and in hard copy. The e-format must be portable via e-mail, in a format that is compatible. The hard copy can serve as a means authentication and verification of the e-format.
Library and Media Management
The library management module allows the institution to manage and track its library inventory, membership and transactions. The Library Management system give consideration to the various media that reside in the library: viz. Books, journals, newspapers, magazines, cassette tapes, diskettes, CD-ROM and DVD discs, microfilms, eBooks, etc. Scadsys reduce the need for paper records, and improve the way information is stored and handled. Staff and students should therefore have greater access to accurate information as a result of a more efficient library management system.
Collaboration Management
In today's Internet enabled society, schools and colleges have the need to improve and extend their communication to the students and communities they serve. Scadsys is uniquely positioned to offer an eMail solution to Scadsys users, through full integration with Microsoft products that will deliver outstanding productivity gains and cost reduction to the school or college. For example, when a new student is registered in Scadsys, then besides allocating a student number and printing the student's timetable, an email address can automatically be generated and the Microsoft Active Directory and Office 365 can be configured for the student. This means that the student will immediately be able to login to the school or college network (authenticated by the Microsoft Active Directory), have Internet access and be able to start collaborating. When the student leaves, the Scadsys student record will be tagged as 'leaver' and the Active Directory account will automatically be disabled. The student will then not be able to login and send or receive email.
Scadsys has an eMail and SMS (Short Message Service) through full corporation, collaboration and coordination with its various business partners. ExactMobile and SMSWeb are companies that specialise in the delivery of short messages to cell phones and have combined forces with Scadsys, to establish a notification and communication solution for schools and colleges. This combined with normal email service, fully integrated into Scadsys, promise to deliver outstanding productivity gains and cost reduction to the school or college.
The Scadsys eMail and SMS module caters for quick sending of individual or groups of email and SMS to parents and students. Scadsys already host the parent and student information required to send email and SMS. This module makes optimum use of information already captured in Scadsys to improve the image, communication and productivity of the school and reducing cost.
Management Dashboard
Scadsys developed a management dashboard for management and governing body members to at a glance get an overview of the key performance areas of the school. The dashboard comes will drilldown facilities into more detail.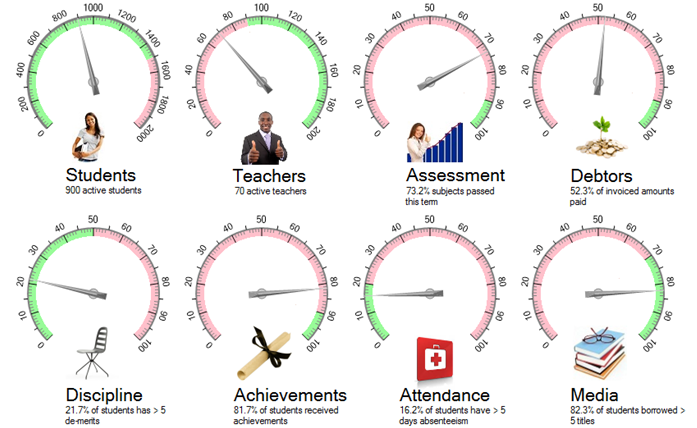 Specialised functions supported by Scadsys
When designing any system, there will obviously be numerous functions that are not common to any one category. The following are such functions:
Voters' roll
Address book
Custom report writer
Advanced search function with students photos
Data archiving
Class list with photo graphs
Registration management (managing the registration process)
Cashless and paperless schools
Free format notes for students, debtors and educators
Content management with respect to documents, minutes, collaboration, schedules, etc.
Records management
Identity Management
Security
With much of the information stored by Scadsys being of sensitive and/or confidential nature, it is imperative that Scadsys have stringent security features. Scadsys implements security through 7 layers of access and encryption.
User access to Scadsys is controlled through a 2 factor password control system and device authorisation and authentication. This means that only authorised devices may access Scadsys data. Furthermore, Scadsys contain detailed access levels (set by an administrator), which determines individual/group access to the various areas and functions in the system.
Multi-User Capabilities
Scadsys have the ability to allow several thousand users to simultaneously use the services. For example, the treasurer/administration clerk could be working in the Financial Management module, generating financial reports, while educators are capturing student assessments or updating codes of conduct or attendance records, in the Student Information Management module, and the principal is checking on staff attendance over the last three months, in the Staff Information Management module, all at the same time. Scadsys users do not have dependencies on each other.
Return